Comfort Doll Project is currently finding ways to continue to support World Vision. One such way is through the sale of bracelets that we create ourselves – choose from Inspired Sayings stretchy bracelets, or custom guitar string bracelets. See each description for detailed information and color options.
Guitar String bracelets: (and questions on authenticating them HERE)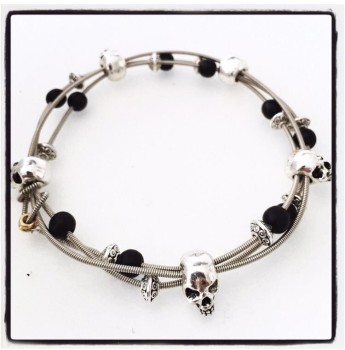 Guitar string bracelets make a great wearable keepsake from your favorite artist. Artist strings we currently have available are: Sam Roberts Band (silver),  Aaron Pritchett (brass), Tom Cochrane (brass), Tom Wilson (aka Lee Harvey Osmond – brass), Big Sugar (brass)
All bracelets slide on like a standard store bought bangle. If a standard bangle is too small, or too large for you please contact us directly to custom size your item at no additional cost, at comfortdollproject at gmail dot com.
Color choices are pretty standard, but the size of beads and style of beads depends on the thickness of the string – larger strings require larger holes in the beads (and therefore larger or chunkier beads – this is suitable for the rocker chick style in the image above). Thinner wires are more versatile for small scale and girly style bracelets with sparkle and  pearly beads. Keep that in mind when ordering. Each bracelet is unique – I can't make two identical even if I try! I also take some artistic license when designing – based on the strings and beads it will fit.
Choose from
rocker chick -black and silver (with or without skulls, with or without red – chunkier style)
Girly – purple, teal, pink/orange or red (with sparkle, rhinestone or pearls – smaller scale delicate)
Casual/dressy – purple, teal, blue, red, black or burnt orange (usually glass beads, no rhinestones or glittery, super every day comfortable)
Surfer/super casual – purple, teal, black, brown, red (usually wood beads, minimal silver accents, no sparkle, super 'natural' look and feel)
All our guitar string bracelets are $30 which includes shipping (when you check out it will show a total of $30.) We ship worldwide. Always take your bracelet off before bathing, showering, swimming, hot tubs etc. and before using a laptop (glass beads can break, wood beads will swell and crack).
Inspiration Bracelets
These little wood bead bracelets can do big things! Wear your courage on your sleeve, wear your faith openly. Believe you can do it.. stretchy one size fits all. Each bracelet $20 includes shipping anywhere. Choose your color – then choose your saying. The sale of these bracelets helps us with admin costs such as sending Comfort Dolls by mail to Icross and Drops of Grace.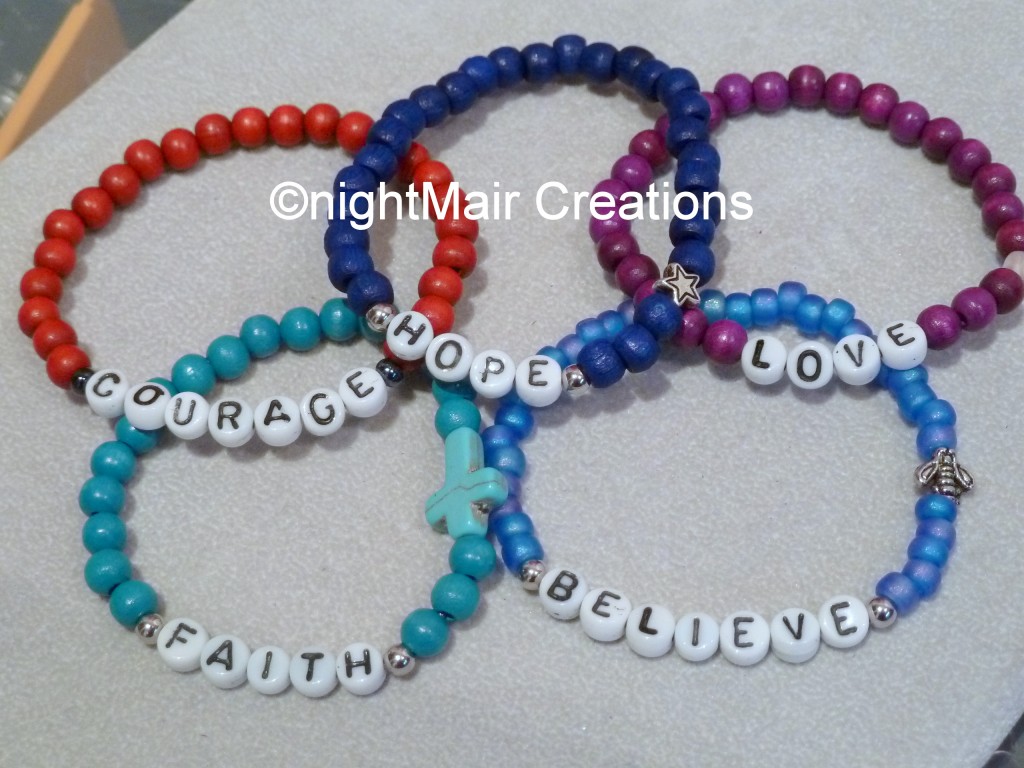 Colours available:
Black
Red
Dark Blue
Teal (turquoise – without the cross)
Purple
Burnt Orange
frosted blue/purple
light/dark brown mix
Sayings available:
Courage
Faith
Hope
Love
Believe
Dream
Inspire