So, where to begin? I suppose at the beginning! Grab a cup of coffee, tea or what-have-you, and take a load off. I'll try to not ramble on, but sometimes I get excited about things so we'll see 🙂
I met my friend 'M' online through U2's website and it turned out we lived in the same city. Other than having an interest in U2, we both had been inspired by Bono's TED Awards Speech (see video below)
We had both signed up for the ONE Campaign and wanted to 'do' something but just didn't know what. We met for coffee and talked and came up with a wild idea! The idea was to use the Comfort Dolls I had been knitting for ICross and get celebrities to hold them. We'd then take a photo of them, and auction it off, sending the proceeds to an Africa supporting charity.
We had an idea, but no idea how to make it work! How to contact celebrities? And how to get a photo? Most actors are based out of Los Angeles and we're in Canada – although at the time we did have a film studio here. And how to auction the photos? Who would actually want them? How would we find those who did want them? Despite all the unknowns, we decided to go ahead. We came up with 'Comfort Doll Project' name, thinking that we'd change it if we thought of something more catchy or clever (we never did haha ). And we planned our first photo. A friend of a friend was going to a Star Trek Convention in a few weeks so we decided to send a doll with her and see what she could do.
I knitted a larger version of the doll and sent it off, along with an index card I formulated on my home printer, and we waited. A week later, the lady came back with our first digital photo – actor Alexander Siddig from Star Trek Deep Space Nine.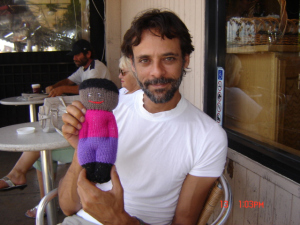 We had to decide, should we auction the photo by itself, or should we get a few more under our belt first? Both of us were so new to it all, my partner had some limited experience with eBay – I had none. I had experience with graphics and a digital camera, and she didnt – so between us we fumbled and were able to get a write-up on eBay. Thinking back on it, it's amazing to me that we actually figured out what we were doing.
We decided to get a few more items before our first auction, so scoured the newspaper looking for ideas – The Black Crowes were coming to town in a month (May 2006), and my partner was a huge fan. She couldn't afford to buy a ticket, but she knew about them; knew that often they'd come out before the show and sign autographs for the fans. We figured – let's go down to the venue the day of the show, take a doll and card, and see what happens.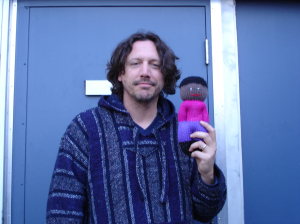 The day of the show, off we went. We waited for hours before anyone came out – but the consolation was that at least there were other fans waiting so we didn't feel so weird. The first person out was the keyboard player, and we nervously approached him. He said "sure, but when I come back I'll do it.. I'm off to the store."  Sigh. Next came a roadie, who was an incredibly nice man, and who figured the drummer would be interested. Out comes the drummer, Steve Gorman, and we fumble nervously through our 'speal' and show him the doll. He lights up, says 'sure thing', and poses for a photo. By this time, the light was almost gone, and I had no idea how to change the settings on my film camera to compensate, so just tried my best.
After photographing Steve Gorman, the roadie came back out to talk to us, and we had a great conversation with him. I think his name was Dan. He really wanted to know about the dolls, about how Icross Canada used them, and about our fledgling project, and we stood and talked to him for about half an hour. At the end of that time, he had to go back into the venue as the concert was about to start, and my partner and I decided on the spot, with basically no discussion between us, to give 'Dan' the doll. He was tickled pink, and it tickled me pink to see his face when I gave it to him.


<—— me. self portrait taken in the grill of the Black Crowes tour semi-truck.
The keyboard player never did pose for us but we were happy enough to have Steve Gorman say yes – we really didnt think we could convince anyone to do this with us!
A month or so later, building on the confidence of that encounter, I contacted Canadian Folk icon Valdy and asked if he'd be willing to participate. He was going to be at the July 2006 Nakusp Music Fest (as I was), and I thought it would be a perfect opportunity. I also found that Roger Hodgson (Supertramp) was headlining that show, so sent an email to his manager and was shocked to actually get a response back from both of them – yes, we'd love to help out, contact us once you get there.
Valdy was so down to earth; after his show he invited 'fans' to come to the media tent and say 'hi', so I approached him over there, and he was pretty cool. At the same time, he suggested I ask his friend and co-performer, Gary Fjellgaard, so I got some practice explaining on the spot what our project was all about. Gary agreed to pose.
Later that afternoon, just as it was turning from daylight to dusk, I had a meeting with Roger Hodgson at his hotel (there's really only two hotels in Nakusp haha ) His assistant was a wonderful lady, easy to talk to – put me at ease which was great – I was sooo nervous. Roger was a sweetheart. He wanted a really good shot so led me off the hotel balcony and out to the street where there was a white picket fence and trees in the churchyard (right beside the hotel). He was so patient with me; waiting for me to get the perfect shot, and posing in different ways. The shots all came out well, but I chose the one with the best facial expression – there's just something about that shot, something kind in his eyes.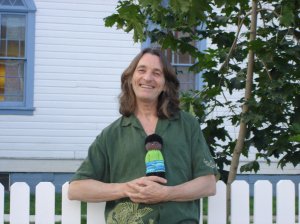 By August we figured it was time to take the bull by the horns and actually do something with the photos, so looked at learning how to use eBay.
Once we figured out the eBay thing, we added a few magazines to the auction, and had our first auction. When I think back on that first auction – it was so… amateur 🙂 But we raised some money, and we sent the first proceeds to Save the Children Fund Canada.
We felt great. We felt like we accomplished something more than just sitting and talking about the poverty issues, and so it was on to our next set of 'celebs' and our next auction!
©Comfort Doll Project
all rights reserved