As I said in my previous post, Myspace is a great place to find music, to listen for free – to make new friends. I got to know Pete Levin pretty good, and he started suggesting some of his friends and fellow musicians that I might ask to do a Comfort Doll photo with. One such person was Jimmy Eppard, or Jimmy E from New York.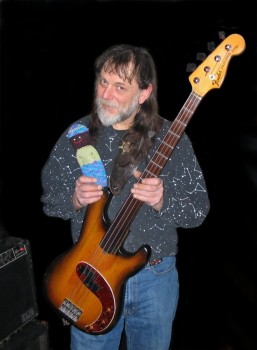 Jimmy is a guitarist/musician, singer, songwriter, carpenter 🙂 , recording engineer, guitar tech, producer, inventer, father and husband – he's an all round nice guy and it didn't take long for me to get to know him a bit better, propose the idea to him of participating in our project (I dropped a few names like Pete Levin and Jerry Marotta) and he said yes immediately. As I had no way to get to New York and he wasn't going to be coming to Vancouver any time soon (sigh), we did it through the mail same as I had done with Daniel Lanois.
A doll was duly knit, sent on its merry way, and again, very quickly I got a wonderful photo back by email. Jimmy was adamant about giving his friend Taul Paul Verdon credit for the photo, and for the touch-up on it that enhanced Jimmy's lovely face and Fender bass guitar. I absolutely love this photo – candid, humorous, unique as the background is completely blacked out and only the amp, guitar, Jimmy and comfort doll are visible.  The autographed card was returned by snail mail and Jimmy's photo was added to the same auction as Daniel Lanois and Tom Cochrane , in mid December 2007. We raised over $500 dollars for World Vision and used it at their 'Gift Catalogue".
I was flabbergasted by how much we raised, and it took more than a few days to figure what sorts of things to 'purchase' from the Gift Catalog in order to use up nearly every last cent possible. This is the list of what we were able to accomplish:
-4 kits to prevent mother to child transfer of HIV during childbirth
– 8 bed nets – each bed net will protect up to 4 children
-4 batches of Vitamin A therapy to prevent infant/childhood blindness – each 'kit' will protect up to 6 children
The $500 dollars raised will protect up to 54 children from basic treatable preventable diseases. That's a huge bang for your buck!