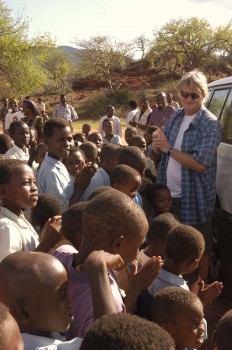 2007 was a weird year – our auctions jumped around a lot partly due to wanting to combine 2 or 3 bands into one auction (and so having to put the photo at hand on hold) and partly due to me recuperating from the chemo the year before… We only did 2 auctions all year which looking back on it, is amazing because it seemed like we did a lot more than this – and we have done so in years since.
We had Tom Cochrane's photo 'on hold' from March 2007 to July 2007 because I found out he was set to play the Nakusp Music Fest and I always go there – so wanted to have him autograph his photo.. which you can read about in Part 2 of Tom's comfort doll story HERE. But then we didn't auction his photo off right away. Tom didn't have a fan club and at the time FB was something that was 'new' and I just didn't have the patience at that point to try and figure it all out. Also, Tom wasn't on FB or Twitter or anywhere else – except Myspace.. so without access to his fans' it was difficult to know where to target the auction.
Late November of 2007 I heard that Tom was coming to Vancouver again in December to support his new album, No Stranger (best album he's ever done I think 🙂 ) He was doing a New Years Eve dinner/dance bash which included an evening of great music and a champagne toast at midnight… we decided to go and I decided to auction his photo before the end of the year along with the photos of Daniel Lanois and Jimmy Eppard. Tom was going to have to help us publicize the auction by posting about it himself on his Myspace page, and this was a good time to have him do that as the New Years Eve date was his last show for some time. (hard to be online helping us when you're touring and going full tilt!)  The auction went well, and one lady was determined to win the photo – she outbid people until the very last minute – and it was hers! It turned out she lived just across the river from the Venue that Tom was playing at for the New Years Eve bash a week later (for some reason I had thought the majority of his fans would be in Ontario). I suddenly had an idea, and contacted Tom. He readily agreed so I contacted the lady via email and asked if she'd be okay picking her photo up in person and meeting Tom in the process 🙂  She was stunned. Turned out she was a single mom who was a huge Tom Cochrane fan and had never seen him in concert – ever. She was more than happy to wait to pick up her winning photo a week later. I got a message from Tom a few days later – even though he was flying in from Prince George that very day, and doing sound check, and dinner, and needing a rest before the show, he'd try to meet her after the show, and a bonus – he was leaving a ticket to the show in her name at the box office.
The show was fabulous. The venue had removed most of the lower seating and set up tables like an intimate cabaret. We sat at a table with 2 other couples we didn't  know but soon were chatting. Dinner was buffet style and the show started around 10pm. I met the young lady at the ticket window and made sure she was sorted out, and she went up to her seat in the balcony and I went back to my seat at the table… we agreed to meet after the show. Tom really did a great concert that night – relaxed, fun, laid back but still rocking. His two daughters were on the dance floor with the crowd and at the stroke of midnight, he called his wife out to the stage and they shared a toast to us, the audience, as we all drank a glass of bubbly and popped balloons that came streaming down from a net on the ceiling. He finished up with one more song, and that was it – 2008 and what a way to jump into a new year.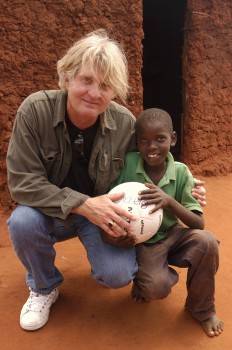 The lady and myself were taken down to the green room after a short wait, and I ran into Jonesy (bassist Jeff Jones) who remembered me and gave me a huge smile and big hug. Then into the dimmed lounge where Tom was talking to all sorts of people including Red Robinson (who's a huge music personality and for who the venue is named after). We waited patiently while Tom talked to his guests. I had Tom's autographed photo still in my hands – she was so nervous she wanted me to hold on to it. Someone wanted to know who we were and what we were doing there with the guests he knew  (in a very nice way) so it gave me a chance to pull Tom's comfort doll photo out and show it to the fellow and tell him about it. I was also able to overhear someone else's conversation about how many times Tom had been to Africa – at that time I think it was 8 times! I was stunned – I knew he'd been, but had no idea it was more than once. I could hear little pockets of conversation about this, and then Tom looked up, saw us and smiled, and the lady was suddenly being hugged gently by Tom who was very soft spoken and put her at ease right away. It was so neat for me to hang back and just watch all this unfold – to soak it up and to appreciate the fact that Tom was so adamant about giving back, of supporting World Vision and kids in Africa, that he'd jump in to help our project as we in turn supported World Vision. I have and always will have a soft spot in my heart for Tom and 'his people'.