With two auctions under our belt, and a few photos waiting to be auctioned off at a later date, we decided to take a break, especially as we ran into holidays – Canada celebrates their Thanksgiving generally a month before the USA does, so that put a Statutory holiday smack in the middle of October, and then again in November. As well, Canada has Remembrance Day in November. (Equivalent to Veterans Day in the USA). We also weren't sure who else to approach for a doll photo. We lucked out with the people who had helped us so far, but most of the people we had on our current 'wish list' were too popular and we didn't know how to find management contact info for them.
My husband and I were booked for a holiday in Hawaii in December (2006)- my reward for going through 4 months of chemo earlier in the year. U2 were playing their very last Vertigo tour in Hawaii on December 9th, and we were going! (there was also the Hawaii Marathon, the Surf Competitions, and a Dental convention the same weekend! They were expecting about 200,000 people/tourists that weekend). So… we came up with the idea to ask Rocko – he's U2's production manager, and a musician and lead singer of Rocko and the Devils.
Some background on the amazing Rocko. Rocko has worked in the music business for nigh on 30 years. Everyone who's anyone knows who he is. He's worked as tour manager, production manager, road manager, and yes, they are all different jobs! He's worked for Journey, Styx, Def Leppard, and U2 just to name a few, and it was while working with Journey that he put together his band, The Devils. Most of his bandmates are technicians (previously called roadies) for Journey or Styx and are fabulous musicians – they have to be as they're in charge of all the instruments for the band, and testing them out before each show. While working for Journey, Rocko suggested opening for them with his band – apparently much of the audience was missing part of Journey's set list due to still being out in the lobby getting beers and tour tshirts etc. With an opening band, they were warmed up to the music and ready to rock with the headliners. Rocko and the Devils were so good that they kept the band together, and practiced when they were home off the road, and began writing some of their own songs.
Fast forward to U2 and their Vertigo tour a few years later, and Bono was given a demo tape of the Devils, and one day he asked if they would close out the tour by being the opening act for U2 in Hawaii! Rocko had met some of the U2 fans in person, and one of them, Hans44, developed a website for Rocko and the Devils, and before you knew it, everyone knew who the opening act was. Rocko is such a down to earth unpretentious sort of character that we all become friendly with him, and so I decided to ask if he'd do a doll photo and he said yes! (although he kept wondering who in the world would ever buy a picture of his mug 🙂  ) The plan was to meet him somewhere in Hawaii before the show and do it on-site. My husband and I were there for a week, U2 was there for 2 or 3 days, so I figured no big deal. right? haha. Yeah.
Things seldom work the way you think they should, or hope they would. And this was no different. Again, I've come to learn by experience, that the music business is unpredictable and you have to just go with the flow. Most of our cell phones didn't work for some reason – our local Canadian carrier shifted our phones to voice mail, and many of my USA friends couldnt get through. Combine that with the fact we had rented a condo instead of staying in a hotel, and we were unable to get any messages from people that might have called (no front desk). The internet was our only method of communication with some people, but some people didn't have even that. It was a schmozzle. Then the whole thing about trying to get to the show venue – it was about a half hour drive out of the main tourist beach, and there were 60,000 people trying to get there! Needless to say, no matter how much Rocko wanted to help out, it was not meant to be. I was terribly disappointed, but I firmly believe things happen for a reason and everything in its right time so I shook it off and just enjoyed the show and being in Paradise.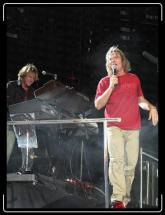 Rocko and the Devils were unbelieveable! They rocked the house down and were the perfect opener for U2. The entire night was amazing – the fans had been wearing white tshirts with ONE on them for most of the tour (to show support for the Make Poverty History and One Campaigns ) but this last show, they decided to turn the stadium (RED) – to show support for Bono's new venture at that time – Product Red. Even Rocko wore RED!
So, the tour was done, we went home, and within a few weeks I get an email from Rocko asking if he can still do a doll photo, do I still want one?  But of course!  So I mailed him a doll and autograph card, and a few weeks after that, I get a whole series of wonderful photos back from him.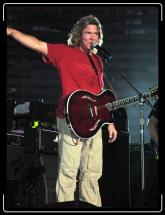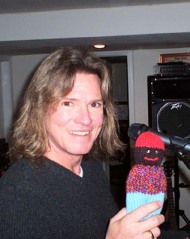 I chose a few, and put them aside knowing that there were many new Rocko and the Devil fans amongst my U2 friends who would be bidding on them and bidding high 🙂  Rocko promised me he'd help, and although it didn't work out the way I thought it would, it did work out and he's a man of his word. And wonderful too 😉 He calls his comfort doll 'lil devil' and it sits staring down at him from his studio shelf.
The auction (held May 2007 and combined with A Sheep at the Wheel photo) brought in $140.00 which was sent to Music Rising, a charity in New Orleans started by and supported by U2's The Edge, to help struggling musicians purchase replacement instruments after Hurricane Katrina, and get back to work by doing so.. many of the musicians lost their livelihoods when their instruments were destroyed.
This Youtube video is Rocko and the Devils performing I Dont Wanna as they opened for U2. Its fabulous!