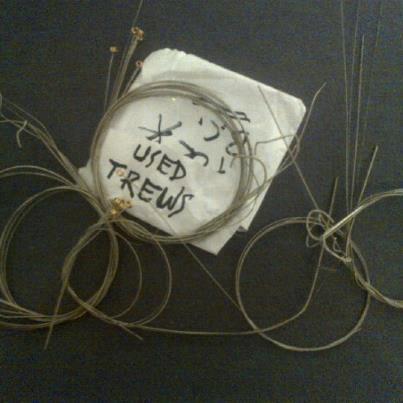 We turned a new chapter last year – our comfort doll photos were not as popular as in the previous 6 yrs and we've worked with nearly every major Canadian band so were looking for a new way to keep our charity project going. A friend sent us an idea – used guitar string bracelets! We googled, and there are many many out there! So.. we decided to give it a try.
The Trews were coming to play a summer festival near us, and so we contacted the band's mgmt and ran the idea past them. They said yes and set it up for us, and the night of the concert, the band's Tour Manager handed us a packet. Surprise! Not one set of strings but 4!!! Two full sets were from Colin's blue and black Telecaster, one set from John-Angus' Sunburst, and a fourth set we suspect they tossed in as a bonus! The strings were cut off the guitar (in a hurry perhaps, to add to our collection? 🙂 ) Four sets!
We got busy making bracelets! Not wanting to waste any part of the leftover's we also made a few pairs of earrings, a keychain and even a belt loop charm and a ring!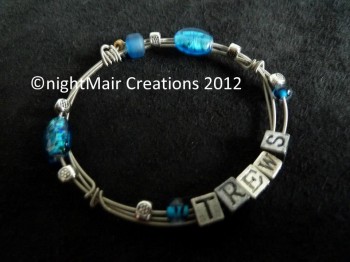 The auction was a smash success! The Trews mgmt and Fan Club helped tremendously by spreading around the link to the auction and it exceeded our wildest expectations… Thanks to the band, the mgmt and Especially the fans, the auction raised just under $1700 .. we were, and still are, completely staggered. We had a hard time using it all at the World Vision online Gift Catalog -have never had this much funding to work with! So.. this is the list of what we donated.
2 Hens and a Rooster (eggs for food and for selling)
4 mosquito nets to protect from malaria – this gift helps up to 16 children
3 soccer balls x 3! -kids often use plastic bags or rocks to play with – we wanted to provide some fun things too.
bicycle and repair kit – one bike can get a health care worker many miles in a day to visit those too sick to walk to the clinic.
Educate a Girl in Need x3 – Girls generally end up uneducated due to cost (the boys are educated first) so we wanted to help three girls go to school
HIV and AIDS Care Kit x 3 – a kit is all that's needed to prevent HIV/Aids transmission from mother to child when the child passes through the birth canal.
Help Immunize a Community – big ticket item we were thrilled to include
Life-Saving Nutrition for a Child for 2 months -we chose two of this
Medicines for 10 children x2 – 20 children will get life saving or preventative meds
Restore a Child Soldier x 2 – The Trews support War Child and we thought this would be a good thing to do in their honor
School Feeding for 50 children x4 – we were able to feed 200 children for a month!
Stock a Medical Clinic x2 – everything needed to look after a community
Supply a Classroom x2 – paper, pencils, text books..
As we said, its staggering… the fans were amazing, and the fans support a band that gives back in so many ways (which is why the fans do as well). Thanks to all.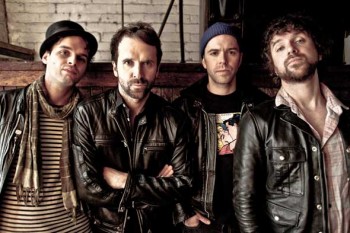 ©Comfortdollproject 2012 all rights reserved