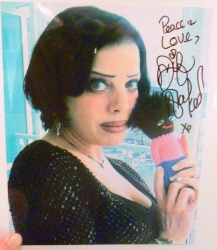 Auction #23 featured the lovely Bif Naked and Canadian Rockers, The Trews.  We mailed a doll to Bif and her management emailed us two really cool photos of Bif holding her Comfort Doll. We were able to have the photos signed a short time later when Bif came to town on tour, and included an autographed poster and copy of her new cd, The Promise.
The Trews were performing at the Nakusp Music Fest and we arranged with a very nice mgmt lady to meet them before they went on stage. They were really into doing a photo and we snapped it in the dressing room. John-Angus took charge of the doll and looked like he was going to fight the other guys for it 🙂
We ended up still having the photo when The Trews came back to town for an acoustic show, so we contacted mgmt and were able to have the band autograph the photo after the show – they did a meet and greet in the lobby and signed things for anyone who asked. They were thrilled to see the photo of themselves with the Comfort Doll. They donated a few guitar picks as well for our auction package.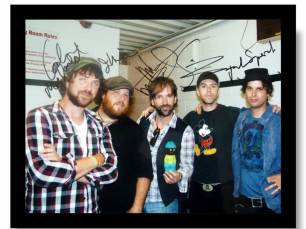 We also met up with The Mudmen at the Nakusp Music Fest, snapped a pic with the guys, and were loaded down with extra items for the auction package – so we combined all three artist/band photos into one big auction and raised $135.00 which we used at World Vision Gift Catalog. With the funds we were able to purchase the following items:
3 soccer balls,
2 mosquito nets (which will protect up to 8 children in total),
school lunches to 50 children for an entire month.
We wanted to not only protect kids from Malaria (nets) and feed them so they can learn but also give them something to bring some fun into their lives (soccer balls). We hope that the band's are pleased with what we chose and we are pleased that they chose to be part of our project.
.