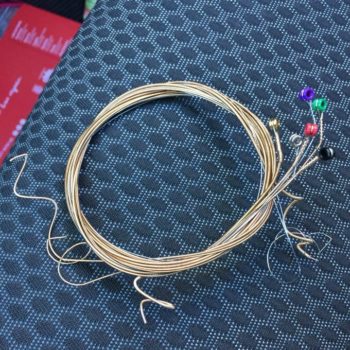 We have strings! Many thanks to Canadian Country artist and Juno nominee Dallas Smith for donating his used guitar strings.
Dallas played a short intimate set list from his new album Side Effects, as well as some old favorites yesterday in Kelowna, and the only way in was to win with the local radio station by being the first caller in as soon as you heard the prompt. After nearly two weeks of trying every single day, and not being fast enough – we decided to listen to the radio on the radio (instead of on the phone where there is a good 15 second delay! Can't believe we were the first caller through after the prompt! We won!
About 100 local fans showed up (all from winning their way in) and the show was held at the local casino in their jam-space. After the show we hooked up with Dallas in the mini 'back stage' area, where he took the time to take each string off his guitar (and put new ones on) and then pass them on to us, on the spot. He's very stoked about being able to donate something so mundane and seeing what can happen with them. Very cool.
Stay tuned.. Good things are coming (we hope 🙂 )
©Comfort Doll Project