We worked with Sam Roberts a few years back when he did his first Comfort Doll photo with us, and found him to be a very generous person who is always giving back. We asked him and his manager, if they'd be willing to do another such photo, this time with the entire band, and they all said yes almost immediately. We sent a comfort doll in the mail, and the comfort doll went out on tour with the band! (thanks for the cool pic guys!)
As the band traveled though, they suddenly were without their usual bass player, James Hall, due to an unexpected hand infection that was pretty serious (the band posted about it on Facebook). Thankfully James was okay after a month or so, and was able to rejoin the band.
Once James was back on tour, we were sent this great shot of Sam and the guys (Eric Fares, Dave Nugent, James Hall, Sam, Josh Trager), standing out beside their tour bus. (Thanks to their tour manager D, for the photos!)
Their management also sent us some cool band swag – a Collider t-shirt, and a Collider cd – both autographed by the entire band, and they signed the card we sent with the comfort doll. We combined all the items into one 'lot' and included it with the items from another great group of people – State of Shock.
State of Shock is also a band we've worked with in the past – and are very generous about finding ways to give back as often as they can. We asked, they said yes, and we had an opportunity to take the band's photo when they came to a town near us for a show.
Johnny, Jesse, Cameron, Alley, and Kadooh were fabulous – they gave us a pair of Johnny's chewed up drum sticks, autographed a huge poster of the band for us and each guitar player donated a custom guitar pick for the auction package. Cameron was given the doll to keep and put it in his backpack so it wouldnt get lost, then went back and pulled the doll out far enough for it's head to stick out.. saying he felt odd having it not being able to see

Took a picture of it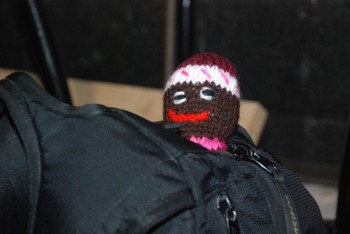 Once all the items were auctioned off, and we had the proceeds figured out, we were able to 'purchase' the following items at the World Vision Gift Catalog
2 mosquito nets which will protect up to 8 children total
Emergency food for a family for 30 days
Enough medicines for up to 10 kids
and 3 soccer balls – we wanted to include something fun as well as life saving, as the bands we worked with all have great senses of humor and are fun to be around. Thanks so much to both bands involved as well as their mgmt people. It was great to work with both bands for a second time!