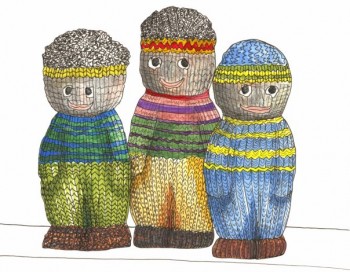 About Comfort Doll Project – Comfort Doll Project was established in May of 2006 by two Vancouver, BC women (Donna and 'Susan') who came up with a crazy idea over a cup of coffee one rainy afternoon.  We wanted to try and make a difference in the lives of people living in abject poverty in Africa, and toyed with one idea after another until we found something that was simple to do and had potential for longevity.
The idea was to take photos of celebrities holding a Comfort Doll, have them autograph an index card, and then auction the card and photo on eBay and send the money to an already established charity who supported development in Africa.
Comfort Doll Project has come a long way since its inception; we've tailored our photo requests to bands and musicians as they are generally easier to contact, more apt to respond, and more generous with their time and celebrity – there are many many bands that come to Vancouver for concerts. We had originally chosen three African charities to send our proceeds to: World Vision (faith based), Save the Children (non faith based), and Icross Canada (because we are using Comfort Dolls created and used by Icross), but this has changed over the years, and we currently send 90-100%% of our proceeds to World Vision through their Gift Catalog.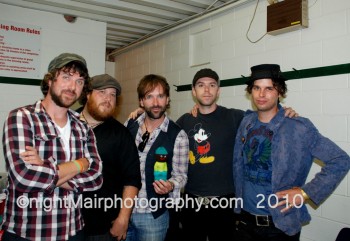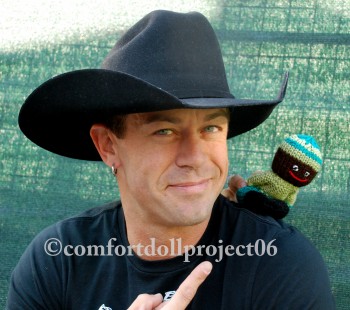 We have toyed with the idea of becoming a registered non-profit entity, but that requires a board of directors, president, treasurer, secretary, monthly meetings, a budget, grant writing etc etc.. and it is cost prohibitive for us to consider it – we'd rather put the money we generate, into the people that need it most.
Currently, Donna Mair is the remaining member of the original duo who founded the project. All the comfort dolls used in the photos are knit by Donna, who also takes most of the photos. Occasionally, a friend will take photos of a band passing through their own town (like Seattle), and sometimes we mail a doll out to the band's mgmt who take the photo and email it back to us for auction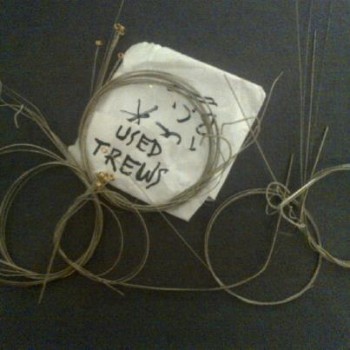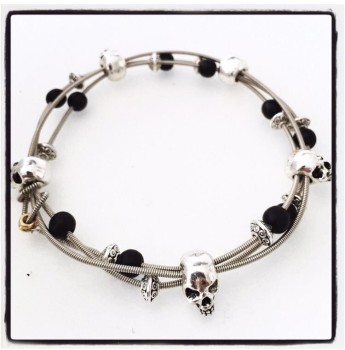 ** As of 2012, it has become harder to entice fans to bid on the photos of their favorite band even when the band donates items for inclusion in the auction. As a result, we were down to only one auction in 2011; our leanest year yet. We had to come up with a new strategy – and did!
Used guitar strings! Bands/artists now donate their used guitar and bass strings which we make into wearable jewelry, and fans purchase those directly from our Facebook page, Twitter and soon on our website, and the results have been encouraging and staggering! We have routinely generated up to $300 for a 6-pack of strings! We are now doing strings full time and will continue to do so until it becomes necessary to try something new again. Thanks for your ongoing support of what we do.
Please make sure you check out our other pages too:
*Auction Results – which bands participated, where the money went, and what it accomplished
*Doll Patterns – knit, crochet patterns for dolls, addresses where to send them
*Contributing Artists – photos of all our past participants
*How You Can Help – ideas on how to help -not just knitting! and not just through our project!
*Our Wish List – bands we still want to work with!
*COMING SOON – Global Knitters – as many people as I can find knitting similar dolls or accepting shipments of dolls (still working on this!)