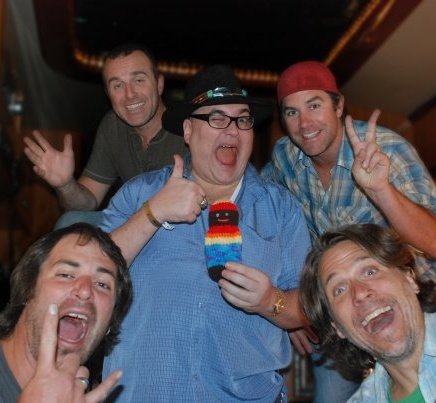 Auction #19 – Blues Traveler kindly agreed to a photo while at the Nakusp Music Fest last July (2009) which we auctioned off December 2009. We had a snafoo for the first time in our short 3 yr history – the Canadian Post Office lost our package! When it was all said and done, it turned out it was held up at Customs due to a missing Customs form (post office) and then got lost in transit. The package – which included a well used drum stick, and a brand new autographed harmonica from John Popper, finally arrived to a very patient, and very excited winner!
We finally have it finalized – and this is what we did with the $205 proceeds of this auction through the World Vision Gift Catalog:
Two hens and a rooster – for breeding and eggs and eventually meat ($55)
school feeding for 50 children for a month ($75)
3 soccer balls ($30)
$20 towards Haiti Earthquake relief – this money doubles as our Canadian Govt matches dollar for dollar till Feb 12th.
We also took out a KIVA loan in the band's name – Kiva a microfinance idea – loan an entrepreneur $25 along with many other lenders, and give them a hand up to start a new business, improve an existing one, or improve their life in a way they need. The loan is paid back over months and when its fully paid back, each lender can withdraw their initial $25 or reinvest in another loan.
We know the band will be pleased to see what good their generous spirit has done for so many.