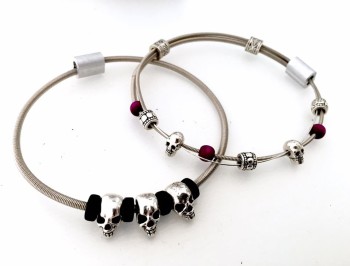 IF YOU ARE A BAND OR MUSICIAN AND WANT TO HELP –  it's pretty easy.
If you have an active fan base (ie Twitter, Facebook or Fan site), you can donate your used guitar strings to us! We make bracelets, earrings, necklaces,  keychains, dream catchers etc, with the used strings – then sell the items off to YOUR fans, and donate the proceeds to World Vision or other charity in need (i.e. Food Bank, Disaster Relief etc).
To date, we've raised over $3470 from July 2012 – 2013 with items created from Billy Talent, The Trews, Collective Soul, and Aaron Pritchett used donated guitar and bass strings.
As with our Comfort Doll photos, our success lies in YOU, the band or artist helping us get word to your fans (through Facebook and Twitter). All it takes is a tweet or two and the fans jump at the chance to help! And to wear an item made from the strings that played their favorite songs.
The neat thing about the guitar /bass strings is that #1 you're going to toss them out anyways, and #2 you can mail them to us and #3 it creates a piece of wearable art/memorabilia from you that fans love to own.
Hit us up via email comfortdollproject at gmail dot com and let us know you're in! We'll give you our postal address and a few simple instructions.. and thanks!
©comfortdollproject.com