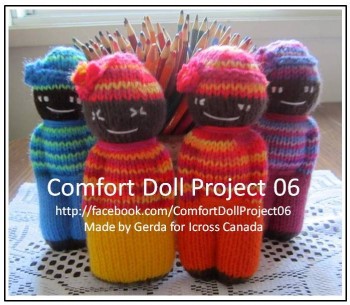 To knit a Comfort Doll – Begin at the feet and knit a rectangle, changing yarn colours for each body segment.
The number of rows in each part of the doll can be increased or decreased depending on the individual design. Finished height of each doll is approx. 6 inches (although mine always end up about 8 inches tall)
You need:
*Small quantities of Sayelle, or similar-weight yarn
*1 pair of 2.25 mm needles or maybe larger depending on wool
*Tapestry needle
*Polyester fibrefill
To make:*Work in stocking stitch throughout
*Cast on 32 Sts
*Work four rows for feet – change yarn
*Work 14 rows for pants – change yearn
*Work 12 rows for sweater – change yarn
*Work 8 rows for face – change yarn
*Work 11 rows for hat as follows:
*Row l – 4: Work evenly in stocking stitch
*Row 5: Decrease 5 Sts evenly in stocking stitch across row
*Rows 6, 8 and 10: Knit across row in stocking stitch
*Row 7: Decrease 5 Sts evenly across row
*Row 9: Decrease 5 Sts evenly across row (17 Sts)
*Row 11: (K.1, K2 together) 9 times
*Draw yarn through remaining Sts and pull up.
To finish:*Sew sides together to form a centre back seam
*stuff body.
*Weave a strand of matching yarn across the first face row. Draw up to form neck and secure ends.
*Repeat for body, drawing in at the feet bottom –
*With matching yarn, form arms with small backstitches through all layers from waist to 2 rows beneath the neck.
*Define the legs in same way from bottom to a little below the waistline.
*Embroider facial features as desired
WHERE TO SEND YOUR FINISHED DOLLS
We are sending Comfort Dolls to a variety of agencies at this time. Two or three times a year, Drops of Grace from Texas, USA needs dolls usually for Rwanda, and we have a group of people that work with World Vision Canada that also need dolls about 3 times a year for Malawi. If there is no 'ALERT' on our main page for dolls – then ICross is the place to send them off!
Icross Canada
Box 3
Saanichton BC
Canada, V8M 2C3
More info about Icross can be found on their SITE.
IF ANYONE finds out about other agencies in the USA, Europe, or even Australia or NZ that is doing similar for the kids in Africa or developing countries, leave us a comment with a name and link and we'll check it out and add it to our data base
I've had many people ask how to send them, what will it cost etc… I send mine in a padded envelope, second largest size available, and just stuff as many in as I can (usually about 15-20 dolls) My friend uses a box. It costs us about $12.00 to mail them, and postage is always more expensive to mail inside Canada, than for my global friends to mail into Canada.