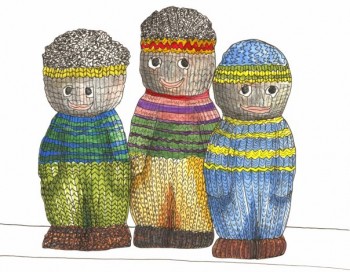 Another year done and a new one started and as we all look back on the year we thought it would be good to give a report of sorts for our 2017 results.
Thanks to your ongoing support we were able to raise $985 this year through the sale of our guitar and bass string bracelets. We didn't do as well as the past few years, due in part to personal obligations (selling our house and a massive move and renovations), but we still all did good- a lot of good! We still have quite a good collection of strings too that will be transformed into wearable mementos and sold throughout 2018!
We managed to send over 100 comfort dolls to the kids in Africa through Drops of Grace in 2017! Thanks so much to all the knitters who carry on with little fanfare- you guys are angels. This year's goal is 200 and I know we can do it.
Our resolutions for the New Year include: updating this website more frequently – it's so easy to get locked into Facebook and now Instagram, and forget about the site! But this is our home bass and we want to keep our history here first and foremost. Other resolutions include trying to post more broad ranged info on giving and philanthropy, and hitting harder on fundraising — our goal this year is $2000.00 for World Vision and Salvation Army/Food Banks during holiday cycles.
Thanks for your support both past and present and hope you have a 2018 filled with love and happiness!
Donna Mair
Comfort Doll Project