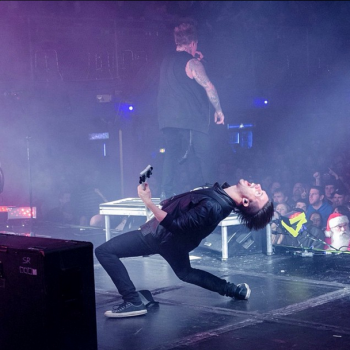 Papa Roach guitarist Jerry Horton told us a few months ago yes! He would donate his used strings to us, and true to his word, they arrived! We got a FedEx card in the mail the other day, and it said there was a parcel for pick up – but not at the post office – at the hardware store! Very odd.. what on earth could it be? Went down to get it, asked the guy who it was from as he came out of the stock room – Papa Roach he says -and his eyes light up! "my fav band" he says.. yes! Ours too haha..
So the package was big! And it said Papa Roach on the return address – their management company. Could hardly wait to get out to the car to open it up!
Inside, were 6 complete sets of strings packaged neatly in the cardboard boxes. We could tell (from experience with many strings over the last year) that these were well used! Took a quick picture, tweeted it, tagged Jerry Horton and he spread it around right away!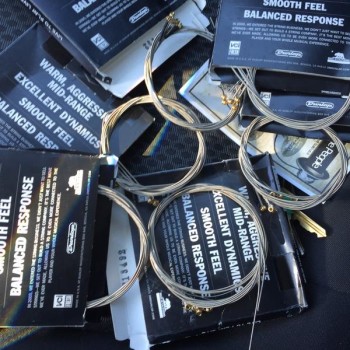 Had to go to work, but once there, took the strings out of the packaging and noticed some of them had black rubber tubing on them.. so spur of the moment, took 6 rubber pieces and put them onto a thicker string, and wound a thinner string around it in a pleasing pattern to lock them into place, making a bangle bracelet. Put a picture of it on Twitter and wow! Someone purchased it in a matter of moments!
We'll be pretty busy making things! Once Papa Roach is back on tour, we'll be planning our auction of items with the proceeds going to World Vision and possibly Union Gospel Mission if its around Thanksgiving. Stay tuned!